Should I be building a video studio or using more virtual backgrounds? With all that's going on right now, more people are at home using more video for meetings, conferences, workshops, education, family gatherings, and just about anything you can think of.
That's why this episode of my weekly live stream shares some of the ins and outs of using both a green screen and your own video studio.
Let's recap with a summary of the content we covered.
Using Green Screen Virtual Backgrounds – Advantages & Disadvantages
I have used virtual backgrounds for quite a while now in my video studio. Part of the reason is that I'm a "super creative" – meaning that I love being artistic with digital content. I may not be able to paint or do crafts, but I have always had a knack for digital art!
It's what drives me and being able to express myself online is one thing that drove me to become a content marketing strategist.
Using virtual backgrounds meant I needed to use a green screen for better quality. Every time I would change my scene, I wanted it to look nice, professional and well branded.
Here are a few pros and cons of using a green screen.
Advantages of Using Green Screen Backgrounds:
You can hide your 'real life' background

You can jazz up your background

and make it more fancy

Make things versatile

or themed to your topic

There are lots of resources right now to get free backgrounds (I'll save this for another post)
Disdvantages of Using Green Screen Backgrounds:
It can be expensive

to purchase a real green screen, but you do need one if you're going to do this (check my gear list page for a recommendation)

Using this option requires the right lighting

You have to be super conscientious about the right color clothing

It can look very amateurish & chip away at your credibility when done wrong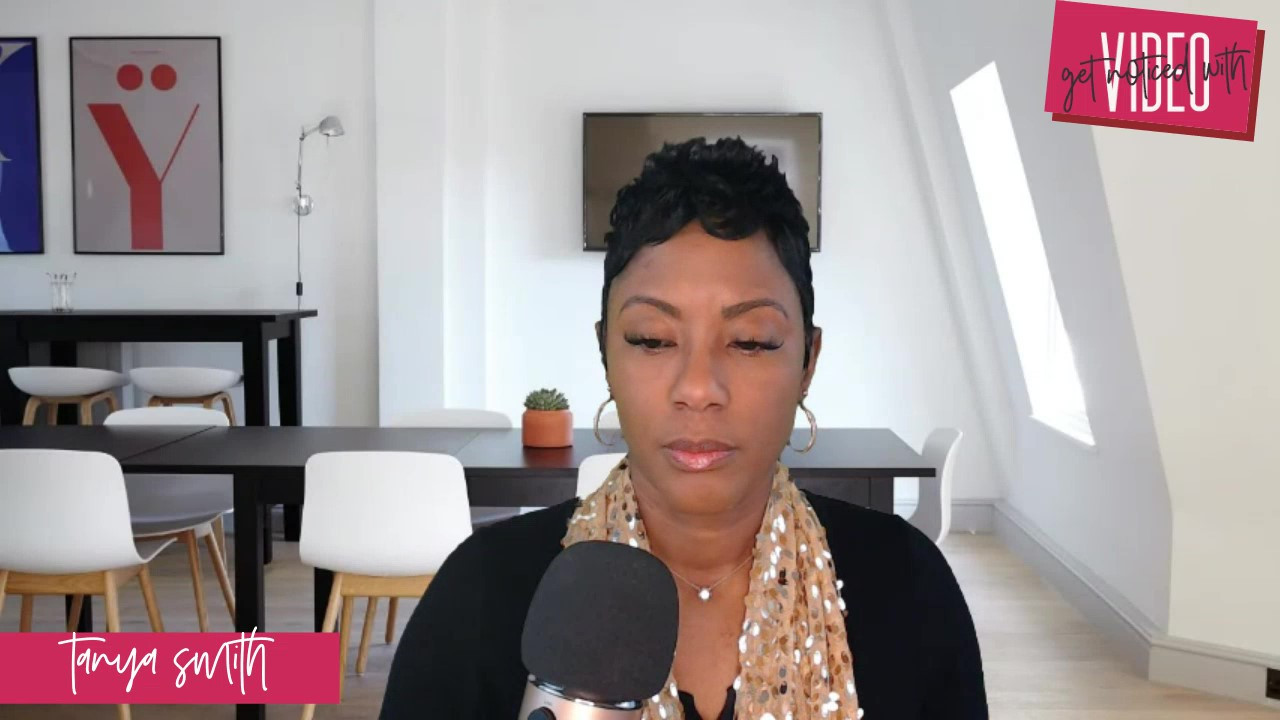 I honestly think that a lot of people attempting to use green screens right now are not doing it well. Part of the reason is they haven't taken time to understand how to set one up.
The other reason is they're using the Zoom 'faker-shaker' as my stylist calls it. This means they are not using an actual physical screen, but relying on Zoom to create the impression of a green screen.
Generally, this doesn't look very professional and you end up looking more like the tube man balloons that are often in front of used car sales shops.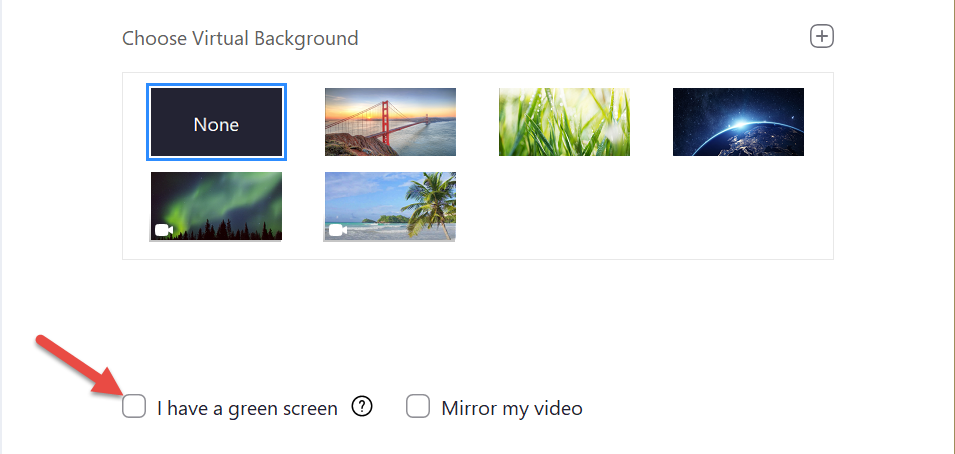 Build Your Own Video Studio – Advantages & Disadvantages
As I received more questions recently about using virtual backgrounds, I decided it was time to go ahead and provide an alternative to my clients and community – building your own video studio.
Now this idea has its own set of pros and cons. You need to be informed either way and be intentional about how to get set up, whether you continue to use virtual green screen backgrounds or build your own video studio.
Advantages of building a video studio
This can be so much fun if you're creative

You can easily brand your background with things that matter to you

It's a lot more permanent

Does not require much preparation time when it's time to go live
Disadvantages of building a video studio
Putting it all together can take time

You'll need to test

for location, space, and lighting

Finding the things you want in your space require some patience
My Process for Building a Video Studio
The part that took me the longest was making the decision to get it done. But I did take some time to consider what I wanted to include in building a video studio.
First, you need to determine the best location.
Where in your home or office would you find that lighting works well for you, you have some sense of privacy away from the other well-intentioned residents (e.g. kids, dogs barking, etc).
Given that I did this during COVID 19 quarantine, everyone was at home so I had to give special attention to the possibility that there will never be a time I'll have complete quiet to record.
I discovered a nice corner I could use that would still be near where I was previously recording.
Next, I thought about mood and I looked through a number of Pinterest sites to get ideas. Most tend to look very similar and I wanted to brand my videos uniquely with my own style. So I looked at prior virtual backgrounds for ideas and came up with one that I liked and used often.
I found a brick pattern peel and stick wallpaper and measured the space I'd be using to make sure enough was purchased. I looked for themes and realized since I've been collecting Wonder Woman trinkets all my life, that I had items I could use in my scene that brought the look together.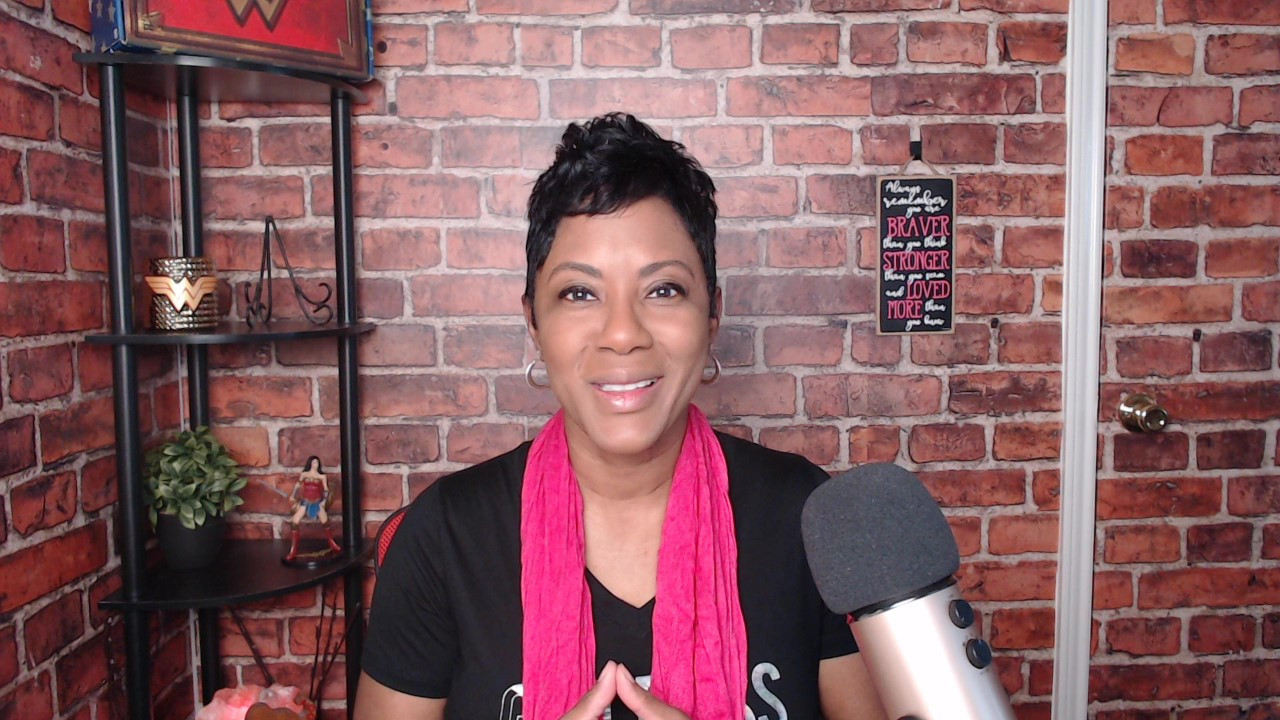 I got a great deal on a corner shelf instead of the long sofa table I was looking for. This worked out well to hide a small issue I had in the corner wall and it was different from the spaces I'd seen.
Finally, I researched and found pink lighting for the back drop area to create my scene – a few bulbs from Home Depot, and some twig lights with a pink tone to match my brand design.
Conclusion
All of this came together to help create a small, but very functional space that I could not only record in; but also use to work on my projects.
Building a video studio gives me freedom from having to remember to set up my virtual background and it allowed me another alternative that still was affordable on the home budget.
While I can still use the green screen when I'd like, the space is now my signature look for my weekly live videos. I love it and building a video studio with my colors and personal items feels like me, which translates well over video.
Check out the live video to learn more about building your video studio and the advantages of using both that and green screen virtual backgrounds for your video scenes. There is no wrong way to do it. Just do what works best for you and expand your options!